Did someone say Umbrella Drink?  We did. Kicking off a sip-ly summer fabulous food segment with Cara Kneer on NBC Atlanta & Company. Mango drink recipe full speed ahead.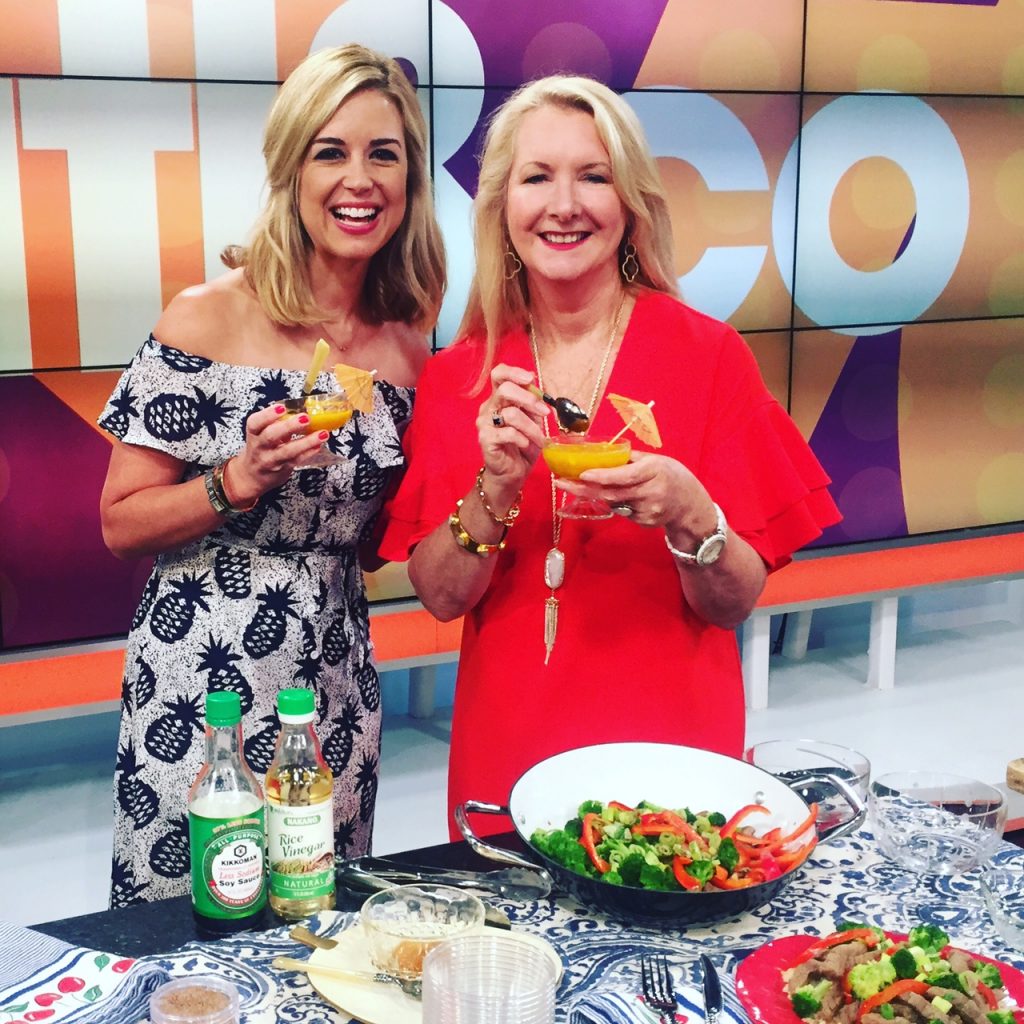 Summer Food Faves – Lightened Up to Help You Lighten Up and Brighten Up Menus for Summer.
Summer foods may seem "light" but watch out for sneaky calories in summer salads, frozen desserts and poolside cocktails.
Recipes:
Zoodles with Noodles- (spiraled vegetables are all the rage) You can enjoy them alone, but why not add them to noodle dishes – half and half- to cut calories and add skin-healthy nutrients! I sautéed halved cherry tomatoes, zucchini and yellow squash 'noodles' in a little olive oil and minced garlic then tossed with spaghetti pasta and grated on a little parmesan cheese. You could also serve this dish cold as a pasta salad. I'd add some white wine vinegar and red pepper flakes to spice things up a bit. S and P to taste.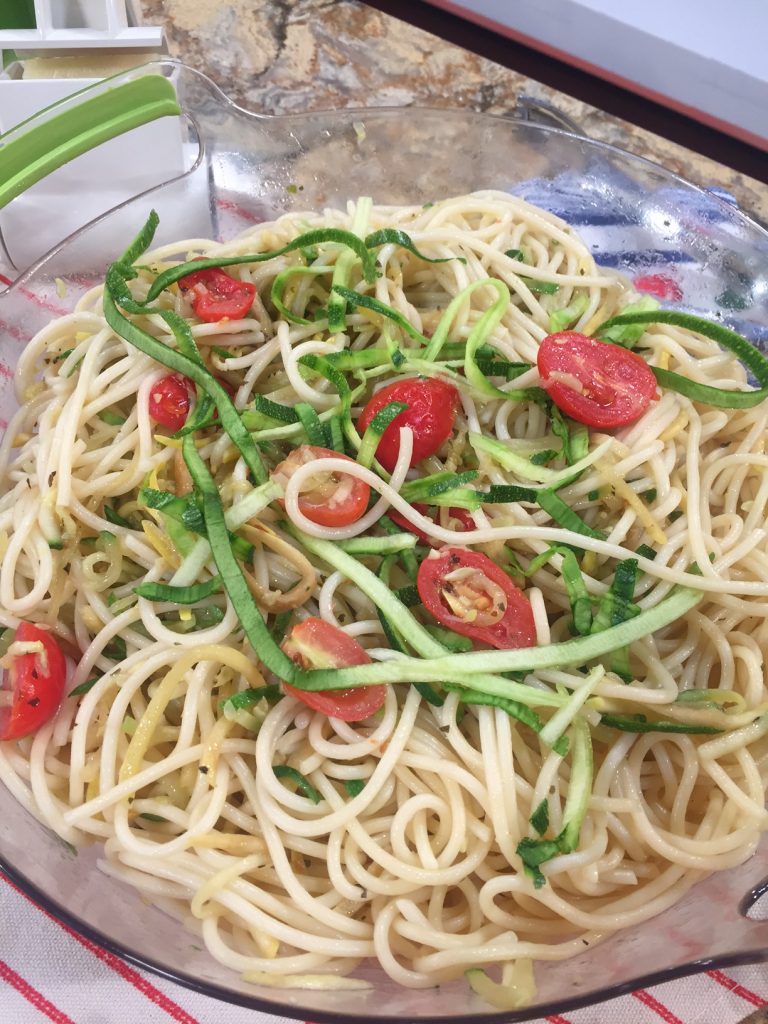 Shopper's Tip: supermarkets are spiraling for you. I bought spiraled butternut squash and beets at Publix.  They're spinning out of control there!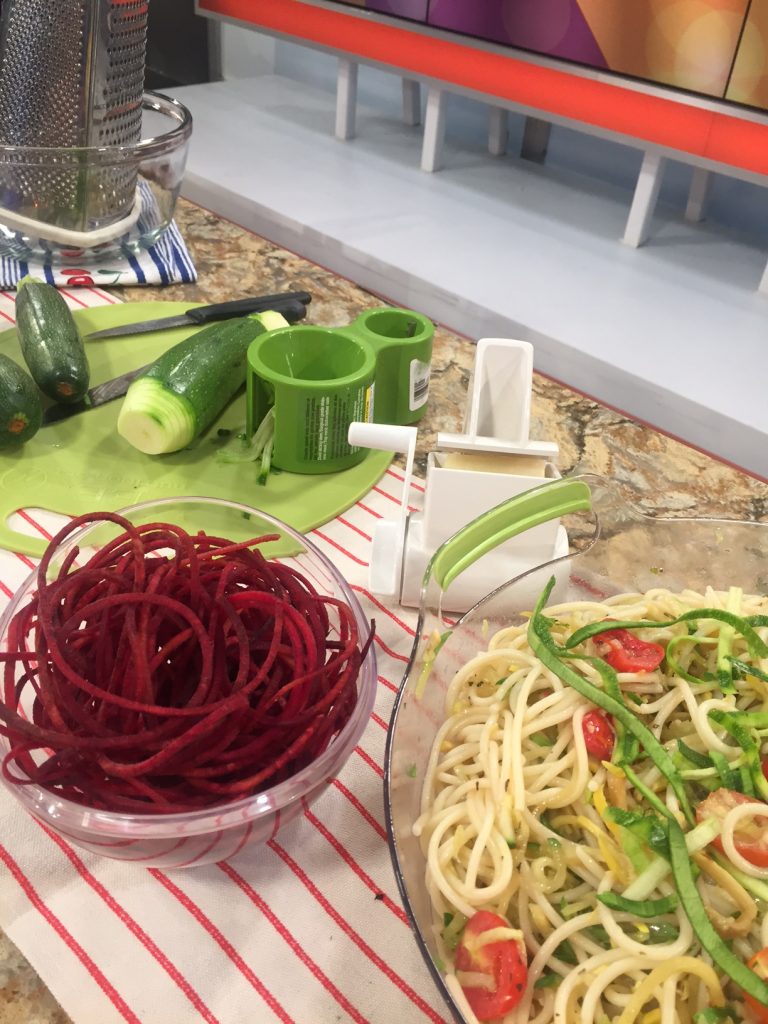 What? Zucchini Butter?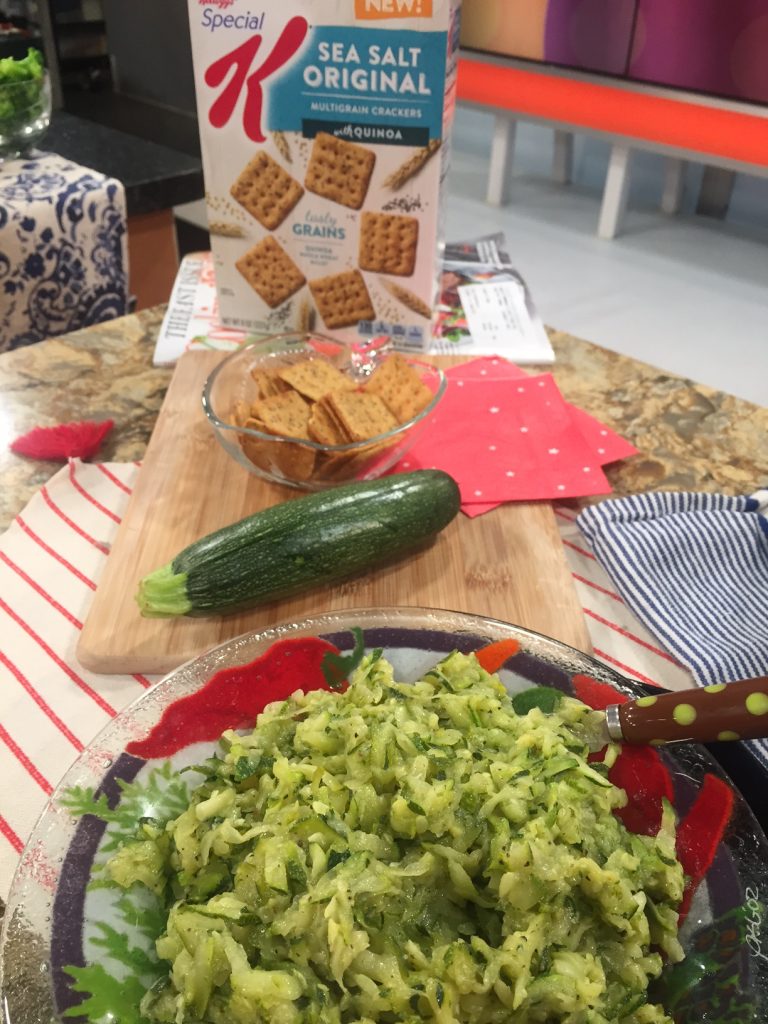 Yes, I found this recipe in the August issue of Cooking Light Magazine and thought huh? But when you think about it, we all love smashed avocado on toast, so why not zucchini butter. It's basically shredded zucchini sautéed with olive oil and a bit of butter, garlic and salt and pepper. Cook until the z's are soft and spreadable. I served on crackers. These brand new Special K Sea Salt multigrain crackers made with quinoa, whole wheat (so not gluten-free) and millet from Kellogg's are fantastic. I'm actually snacking on a few right now while writing this blog post. (130 calories for 7 crunchy crackers)
But you could also use zucchini butter as spread on grilled veggies or in a pita sandwich. Yum! Cara loved it, as you can see in the video clip of our segment at NBC Atlanta & Co.
Make Mongolian Beef a Better Choice for a Slimmer Summer.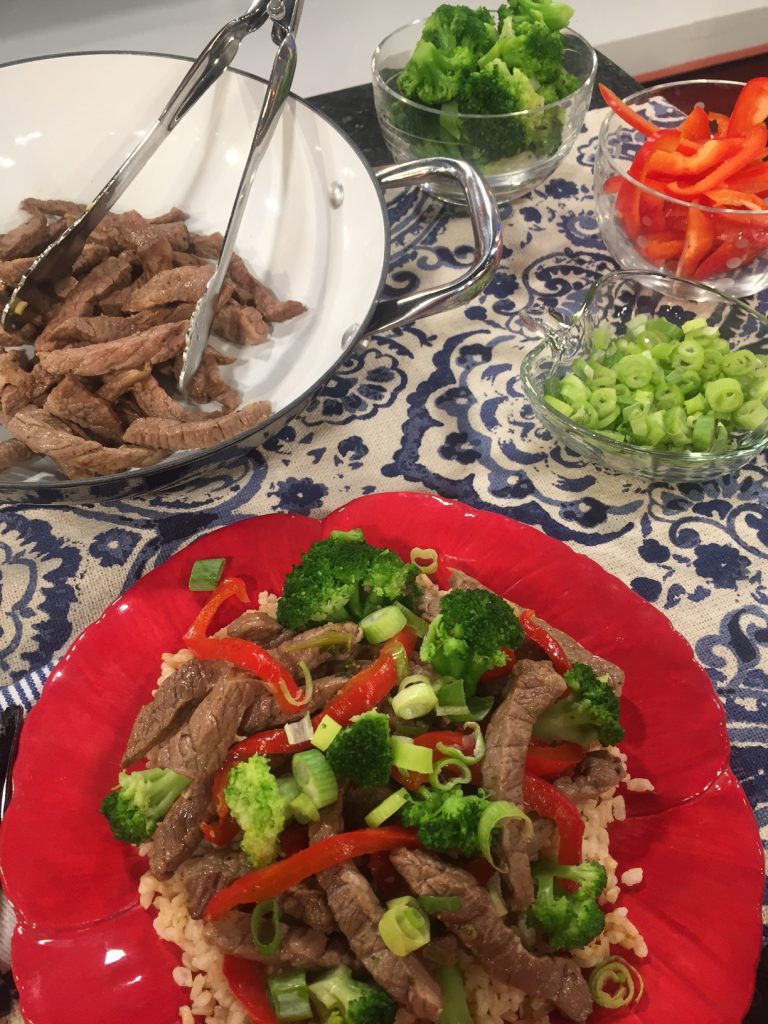 Summer's laid back schedules may mean more dining out or taking out. But watch out!
One of the most popular entrees at Chinese restaurants is Mongolian Beef. It's tasty because it's often made with a super sugary, oily and salty sauce. But you can a much healthier version at home…or on the set of NBC Atlanta & Co as I demonstrated with out a stove! Also from Cooking Light Magazine, I love this recipe because it features lean flank steak, frozen broccoli florets (they're just the right size) and the sauce is a combo of reduced sodium soy sauce, rice vinegar and a touch of light brown sugar.
Oh! Nutrition News: If you've been cutting beef from your diet to help you lose weight…wait! New research from the University of Colorado (published in the journal Obesity Science & Practice) shows that dieters who include lean beef (such as flank steak) are just as successful as those who avoid red meat. They also reported feeling satisfied with their meals and had lots of energy and their heart health was just as good as non-beef eaters, too. Quick reminder that beef supplies many important nutrients including high quality protein, B vitamins, and iron. Here's a link to more information on the Beef WISE study.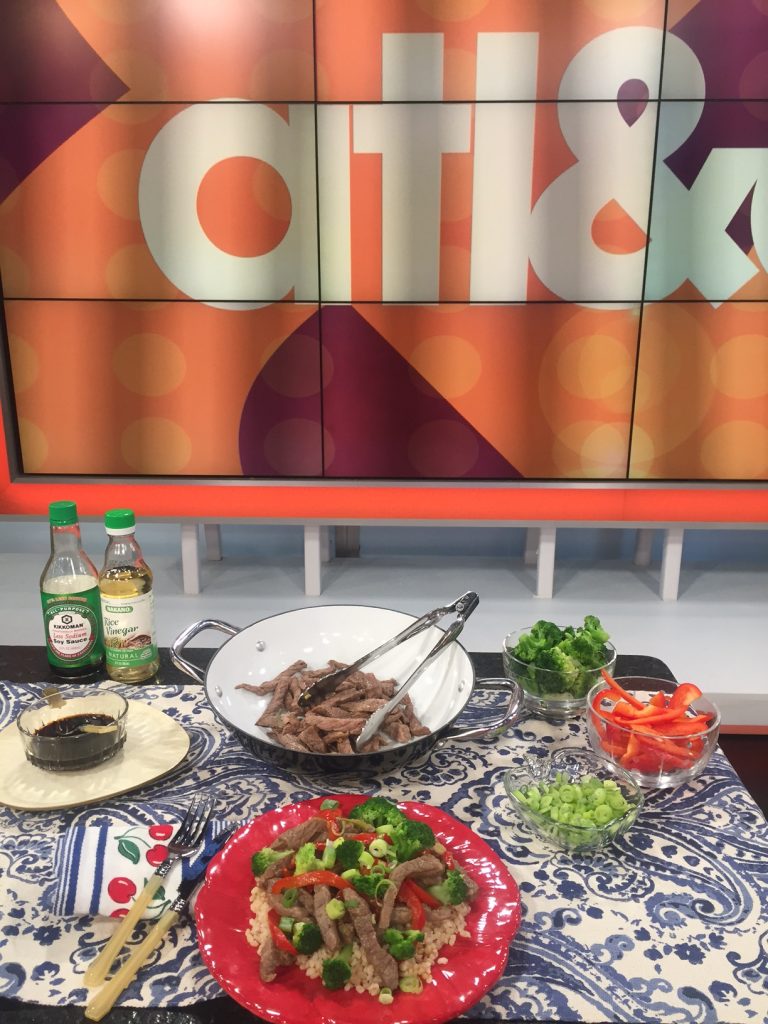 Frozen Mango Dessert and Cocktail! Umbrellas optional.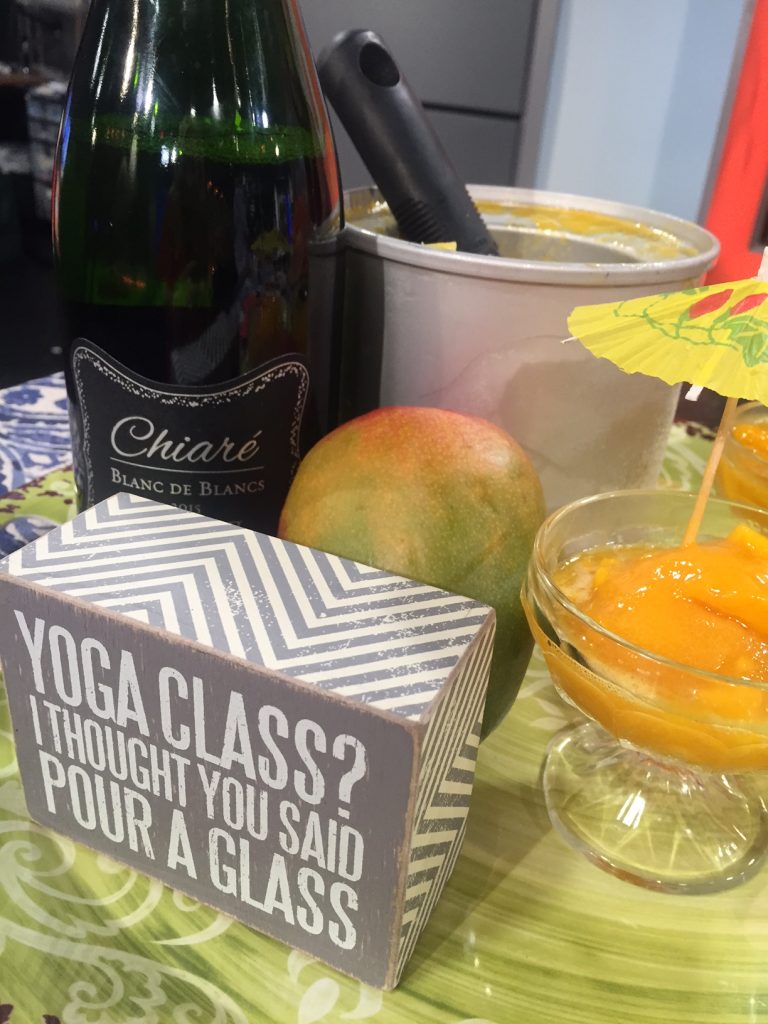 Make your own frozen mango dessert and top with sparkling wine for a light and healthy summer cocktail. I used a pint container of mango sorbet and added a full cup of chopped fresh mango!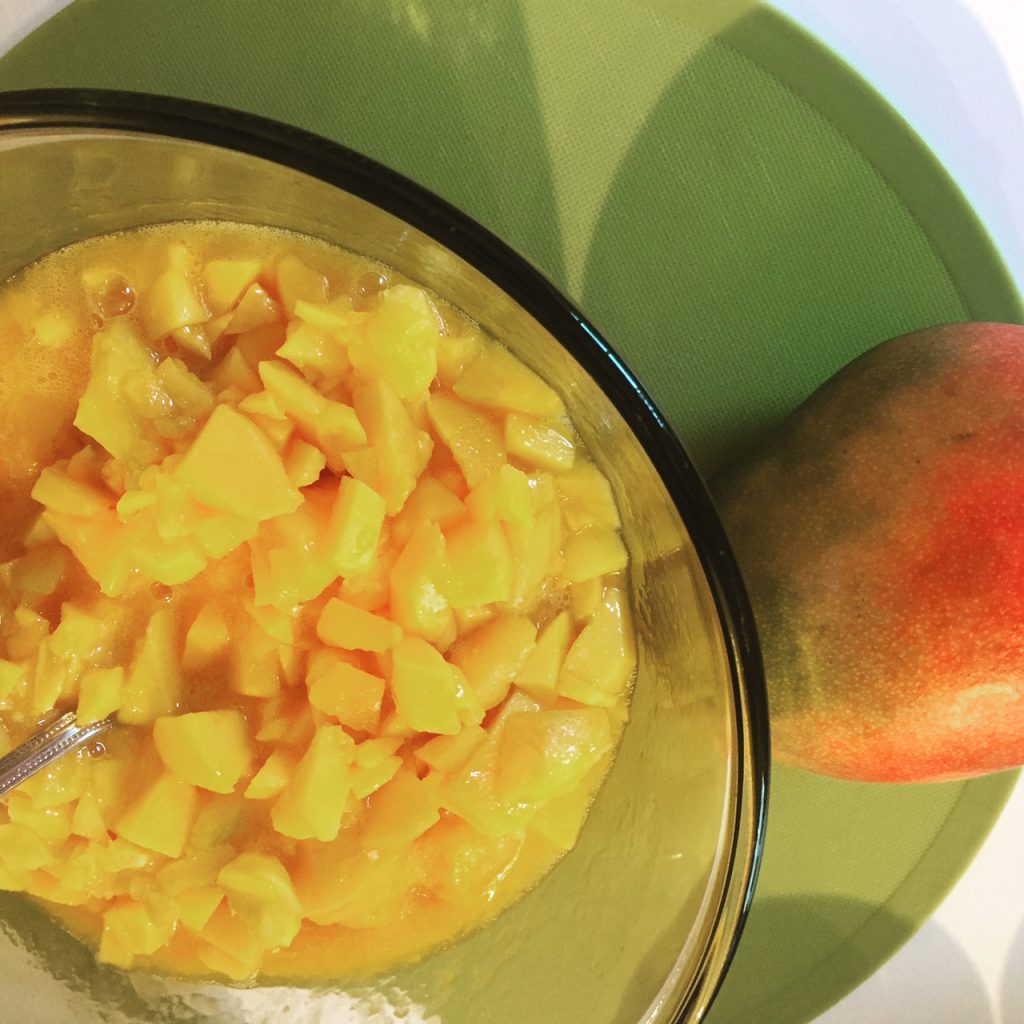 This adds more fiber, cuts the total sugar content and adds healthy vitamin A, vitamin C and potassium. Top with a little sparkling wine, such as Chiare blanc de blanc from Monterey County (via ALDI's wine cellar!) and you've got a lovely, easy and lighter frozen dessert for a happy and healthy kitchen summer meal.
Cheers to a happy and healthy summer!
Carolyn