Summer is in full swing and that means efforts to stay healthy and hydrated should be too.
As the temps go up so does our need for extra water in all forms. From fruit juices to flavored waters to fruits and veggies naturally full of water, it's important to 'drink up'!
If you've ever felt tired, cranky, and like a wilted house plant- then chances are you were in need of watering!
The saying "I'm hot and bothered" may have originated from being not just thirsty, but super-thirsty. Dehydration can reduce attention span and cognitive function and up the odds for being irritated!
SO DRINK UP FOLKS! This blog post is making me thirsty. (:
HOW MUCH SHOULD WE BE DRINKING? 
Most people need about four to six cups of water each day. But that need goes up with air temperatures and activity levels. Remember to drink before, during and after exercise.
What about the kids?  They need even more! Seems like a lot doesn't it? That's why we gotta get these kids to drink up!
Kids Total Daily Beverage and Drinking Water Requirements
| | | | | |
| --- | --- | --- | --- | --- |
| Age Range | | Gender | | Total Water (Cups/Day) |
| 4 to 8 years | | Girls and Boys | | 7 |
| 9 to 13 years | | Girls | | 9 |
| | | Boys | | 10 |
| 14 to 18 years | | Girls | | 10 |
| | | Boys | | 14 |
Data are from Institute of Medicine of the National Academies. Dietary Reference Intakes (DRIs) Tables. Recommended Daily Allowance and Adequate Intake Values: Total Water and Macronutrients.
The amount of water that your child or teen needs each day might seem like a lot, but keep in mind that the recommendations in the chart are for total water, which includes water from all sources: drinking water, other beverages, and food. Fruits and vegetables have a much higher water content than other solid foods. Why do you think they call it watermelon?
This high water content helps keep the calorie level of fruits and vegetables low while their nutrient level remains high — another great reason for kids to eat more from these food groups.
So how do you apply total water recommendations to your kid's day? As a rule of thumb, to get enough water, your child or teen should drink at least six to eight cups of water a day and eat the recommended number of servings of fruits and vegetables every day. Also, pay special attention to your child's or teen's water consumption when they are physically active. Before, during and after any physical activity, kids need to drink plenty of water, especially in hot weather.
The goal is to drink a half cup to two cups of water every 15 to 20 minutes while exercising. So it's great to have juices and waters to take on the go!
MAKE HYDRATING HAPPY AND HEALTHY!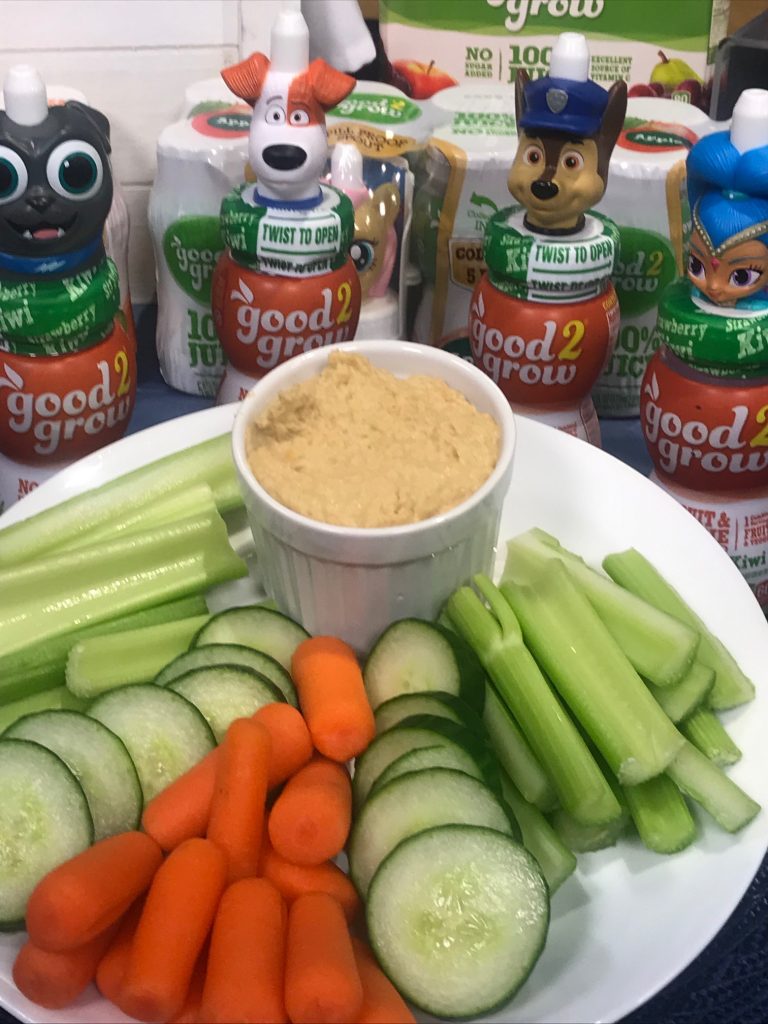 I think it's great that beverage companies such as good2grow, based in my home town of Atlanta, have made a brand of juices and waters for kids and loved by kids.  They make hydrating fun!
The win is also for parents, knowing that good2grow has better-for-you ingredients. Good2grow juices and waters have no added sugar, no preservatives, artificial flavors or colors.
Good2grow has over 200 fun, collectible character tops from your kids' favorite brands like Disney™, Hasbro™, Nickelodeon™ and many more.  From princesses to puppies- so many to collect and love.  And encourage hydration!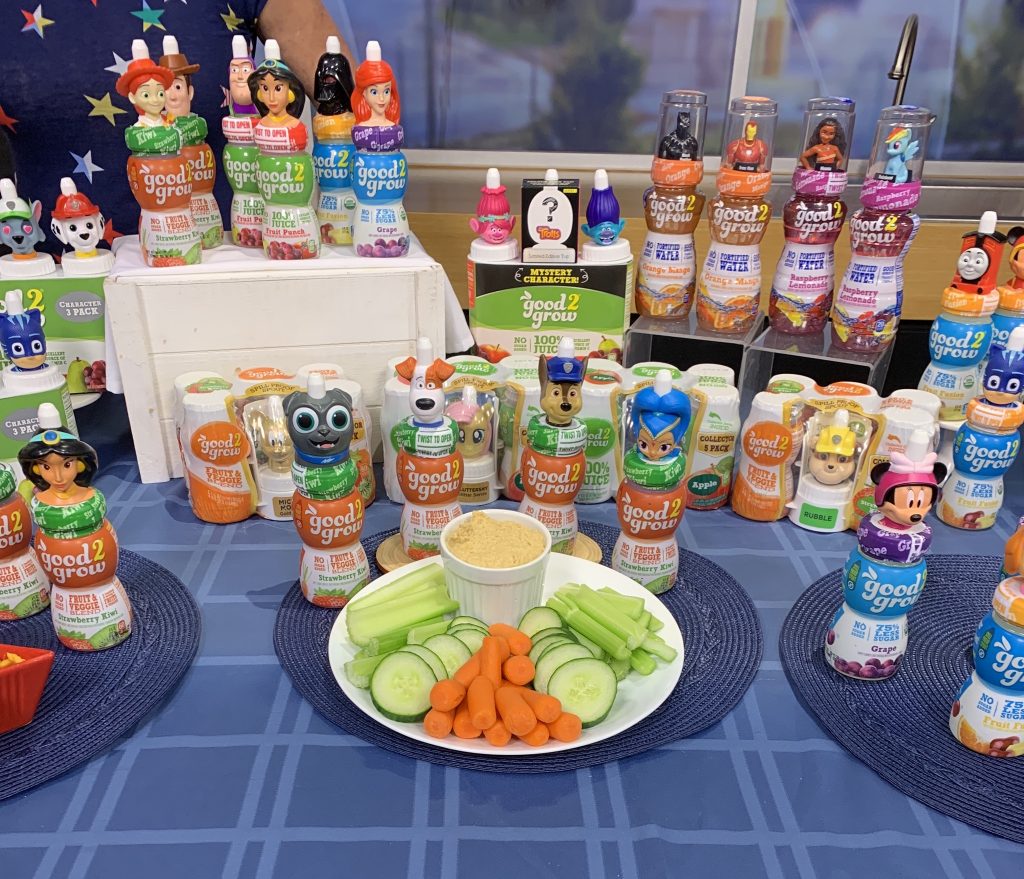 The tops are reusable, spill-proof, dishwasher safe and collectible!
 Good2grow recently launched PODZ Fortified Waters, geared at older kids (ages 7-12) and available in a bigger 10 oz. bottle. In addition to the fun and detailed collectors' tops on the bottle ( Batman!), PODZ fortified waters are a good source of Vitamin D and Calcium. Simply twist off the top and drink from the bottle.
There are 8 flavors in total.  6 flavors of the 6oz spill-proof spouts tops across the 100% Juice, Fruit & Veggie Blends, and Organic 75% Less Sugar lines, and 2 Fortified Water flavors with PODZ tops. Plus, all good2grow packaging is BPA-free and recyclable.
I had so much fun sharing information. on Good2Grow on CBS Atlanta. Please enjoy the segment and see more collectible character tops in this clip of the TV segment here.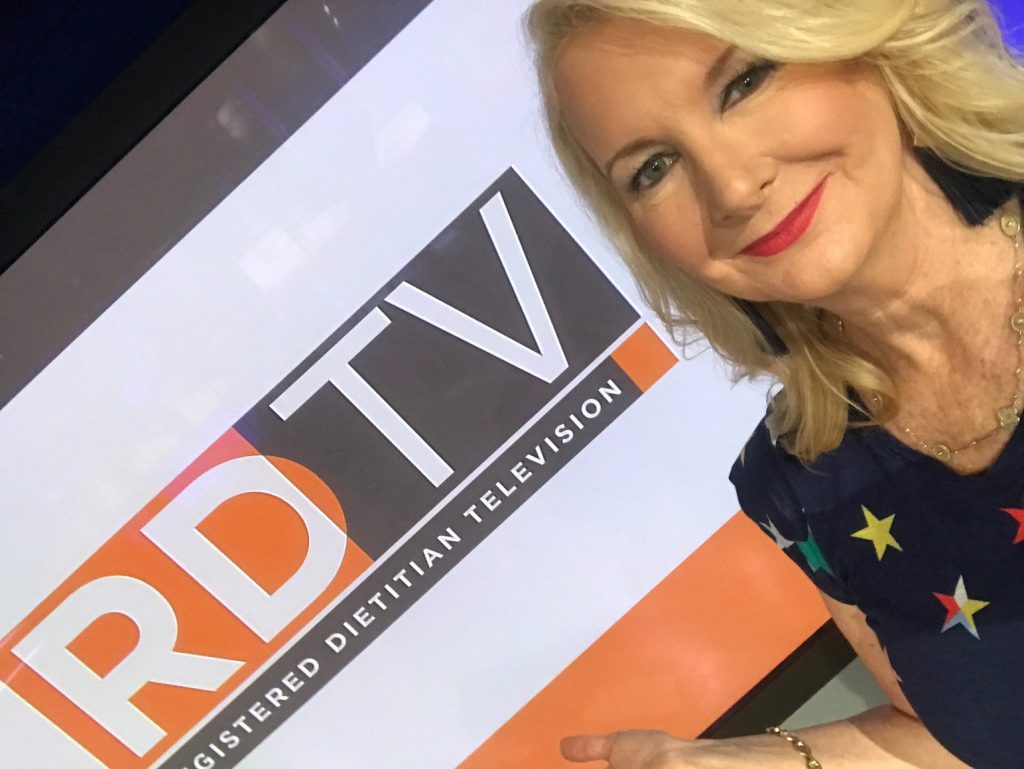 MORE REASONS TO STAY HEALTHY AND HYDRATED! BONUS ROUND.
Water keeps every system in the body functioning properly. that water has many important jobs, such as:
carrying nutrients and oxygen to your cells
flushing bacteria from your bladder
aiding digestion
preventing constipation
normalizing blood pressure
stabilizing the heartbeat
cushioning joints
protecting organs and tissues
regulating body temperature
maintaining electrolyte (sodium) balance.
SOURCE: The Harvard School of Public Health.
Disclosure: I am happy to be working with the good people of good2grow to get the word out on healthy hydration for kids.