Food tours can not only take you places you've never been, they can take you to foods you've never tasted before. Or have never experienced such quality. Plus you get to meet the makers. The enthusiastic souls who sell the salami, bake the bread and know oh so much about the food and wine of their regions.
First Stop: PARIS!
PARIS-A-DREAM FOOD TOUR
On a recent trip to Paris, where every turn turns into a food tour of markets, cafes, brasseries, Michelin restaurants and perfect bites of crepes and sips of cafe au lait……I decided to take a deeper dive into the food scene by joining a guided food tour with Isabelle Pochat's Paris a Dream tours. In the company of friends, the dynamic duo of fellow registered dietitians and food lovers Janet Helm and Liz Weiss, I set off on day of delicious discoveries….starting with a cafe au lait in a coffee shop called Cerwood that looks and feels like you're in Jackson, Wyoming! Tres chic.
The tour led us through a part of Paris we had never visited and truth be told, never even heard of! It's called Belleville and is kind of the "Brooklyn of Paris" with little shops, boho coffee shops, hip young folks and as you can see an impressive display of urban art. It's energetic, lively and lovable.
Also lovable was our personal guide for the day's shop and dine-around adventure, Angelique Lagarde, who is a trained chef and knew everyone everywhere we stopped along the way for tastes and talking.
Beautiful Belleville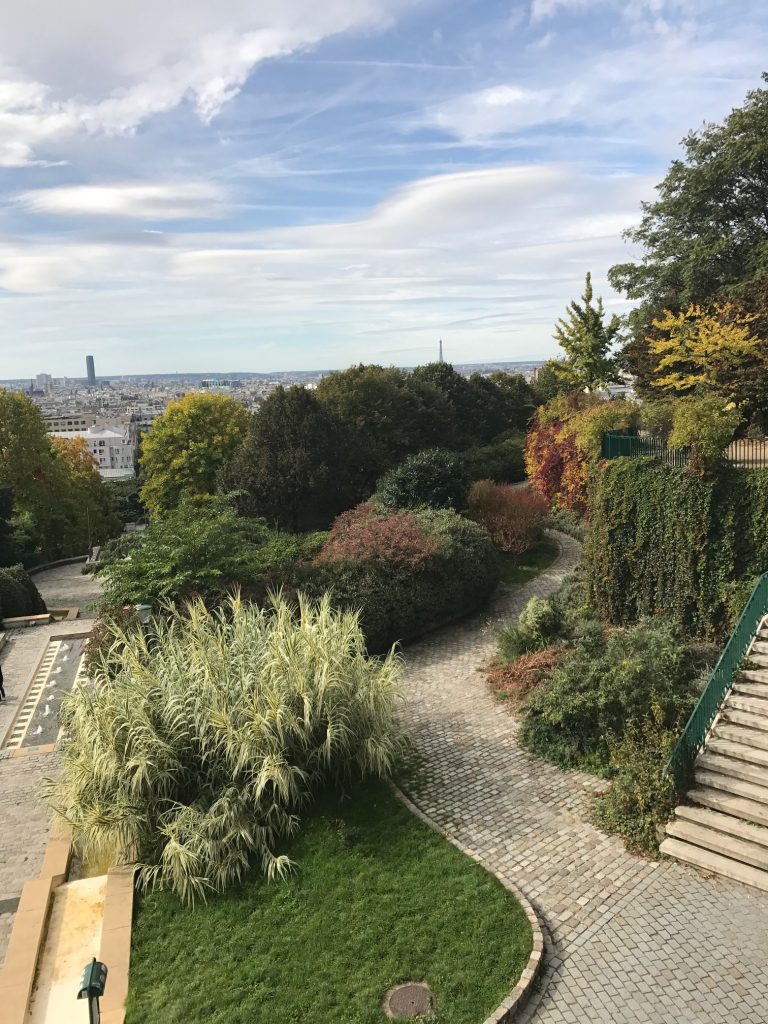 Paris is a city of many neighborhoods, or as they are officially known – arrondissements.  Belleville sits high on a hill overlooking the city of Paris and was home to the famed singer Edith Piaf. Belleville  boasts the only active drinking fountain fed by a natural spring still available for filling water bottles and your French poodle's drinking bowl.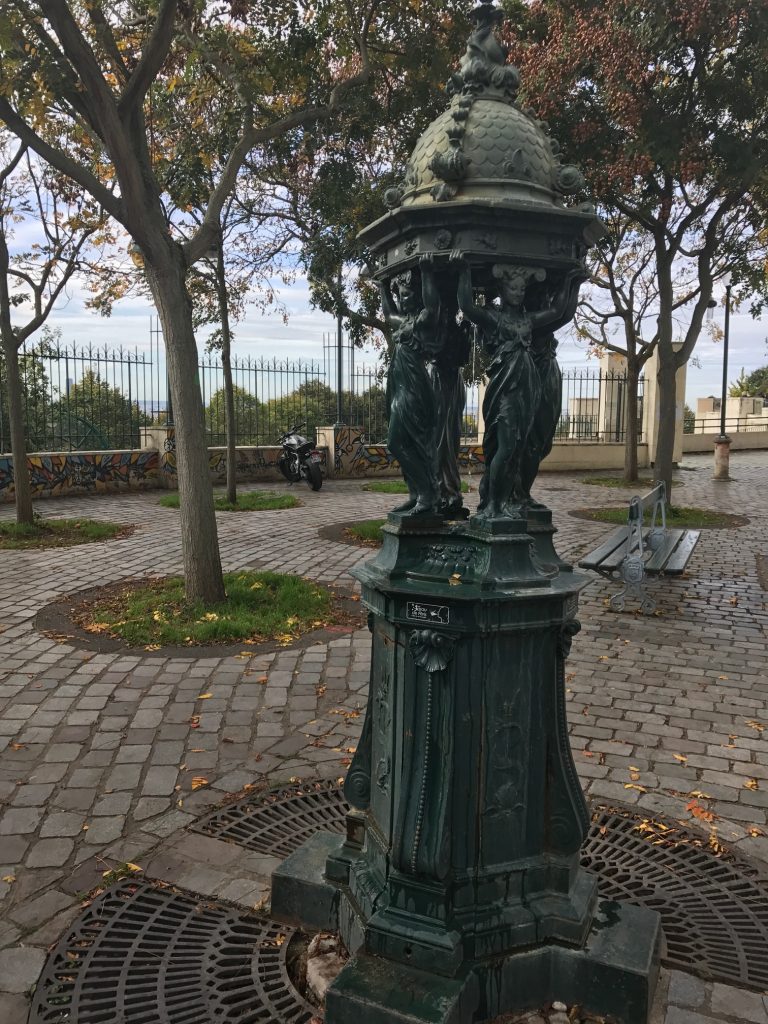 What was most exciting about Belleville was the seemingly humble street anchored with a lovely church next to the Metro stop that boasted the most impressive little shops for bread, meats, cheeses, pastries, seasonal produce and other delicacies. We saw the last of the season's tomatoes displayed with the first of the season's pumpkins. In France the rhythm of nature rules the menu.
Expertise is Key
If a shop sells bread where the bread is actually baked it is called a Boulangerie. And wow, did we ever bite into those baguettes and other foods we collected along the way to build our tour's end picnic at a wonderful wine shop. Bien sur! ( Of course! )
Belleville Beauties: The Happy and Healthy Food Tour Day
Here is a handy list for your next trip to Paris! Or just arrange a tour with Paris A Dream food tours! So many of my friends have followed my delicious advice already.
The coffee was from Brûlerie Jourdain , 138 rue De Belleville Paris 75020 and you took it in
Cerwood Terrasse 8 rue Jean-Baptiste Dumay Paris 20ème 01 42 55 75 01
https://www.facebook.com/Cerwood-Terrasse-1163771483702316/
Boulangerie  Desfoux, 112 rue de Belleville        
–baguette
Boulangerie Au 140, 140 rue de Belleville
– Chouquettes – Financier ….
Castro – 114 rue de Belleville Belleville  – 01 42 52 79 23
Tapenade, Artichoke cream, saucisson and tarama …
Maison Brémond 1830 – 1 rue Lassus 75019 Paris 01 42 40 16 73
https://www.maison-bremond-1830.com/
Olive oils ,  pistachio paste and chocolate and nut paste.
Wine Cellar and Restaurant : LA CAVE DE BELLEVILLE
51 rue de Belleville – Paris 20 Tel 0033(0)140341295    
https://lacavedebelleville.wordpress.com/