Here's how not to work your tail off creating a game day tailgating menu. We're also cheering for National Family Meals Month! Hey, family meals can be shared around a tailgate or the kitchen table.
Did you know that the biggest barrier (55% of folks) to family meals is differing schedules?  So when a shared passion brings you together that's a big win!!
As long as you're cheering for Team Nutrition, did you know it's also National Whole Grains Month? That's why I chose whole grain hot dog buns for the sliders and in the video you'll see whole grain oatmeal cookies for ice cream sandwiches. Now that earns extra taste points no matter who wins the game. So you're a life long fan of your favorite team? Well to keep on cheering for decades to come, of course you have to eat right. Did you know that whole grains are an important part of healthy aging? Find out more here. Long Live Grains. 
Go team nutrition!
I'm a graduate of Florida State University in Tallahassee so this lassie is a big fan of The Seminoles!!! I earned my BS in Foods & Nutrition at FSU. Go Noles!
OK, OK, I'm posing with cute cheerleaders from Clemson University, but it was only to get close to the National Championship trophy that those tough Tigers won last year.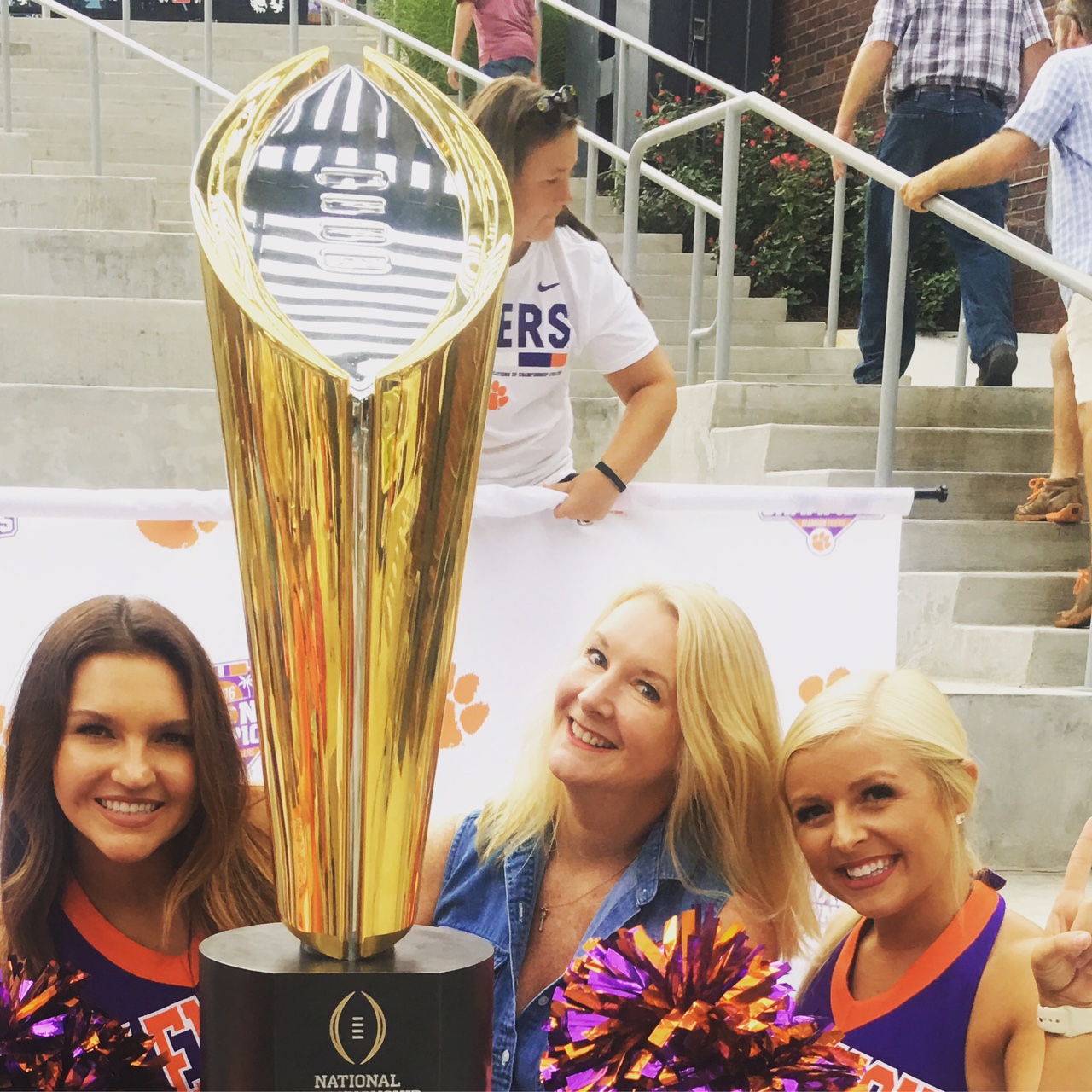 To see how I trimmed the work to kick up a tailgating menu you can join the fun on the set of NBC Atlanta & Company with Christine Pullara, Cara Kneer and Lance White. Pom-Poms and all. In FSU's garnet and gold of course!
Recipe Notes:
Add a cup of chopped mango and a cup of blueberries to packaged salads for extra super nutrition for super fans at your tailgate.  Also I like to add red wine vinegar to the salad dressing that comes with the packaged salads to add more flavor zing and cut the calories a bit.  But, of course, no matter what you are drinking or serving at your football game day tailgate party……you have to wear your team colors!!!!!
Yes, I own a lot of garnet and gold. Go Noles! Hope you take home the College Football National Championship Trophy this year!!!!