Pool Time to School Time
The long and lazy days of summer are coming to an end and it's time for back to school breakfasts, lunches and after school snacks!
I was on Charlotte Today this week and had fun sharing fresh, healthy, easy ideas for busy back to school schedules.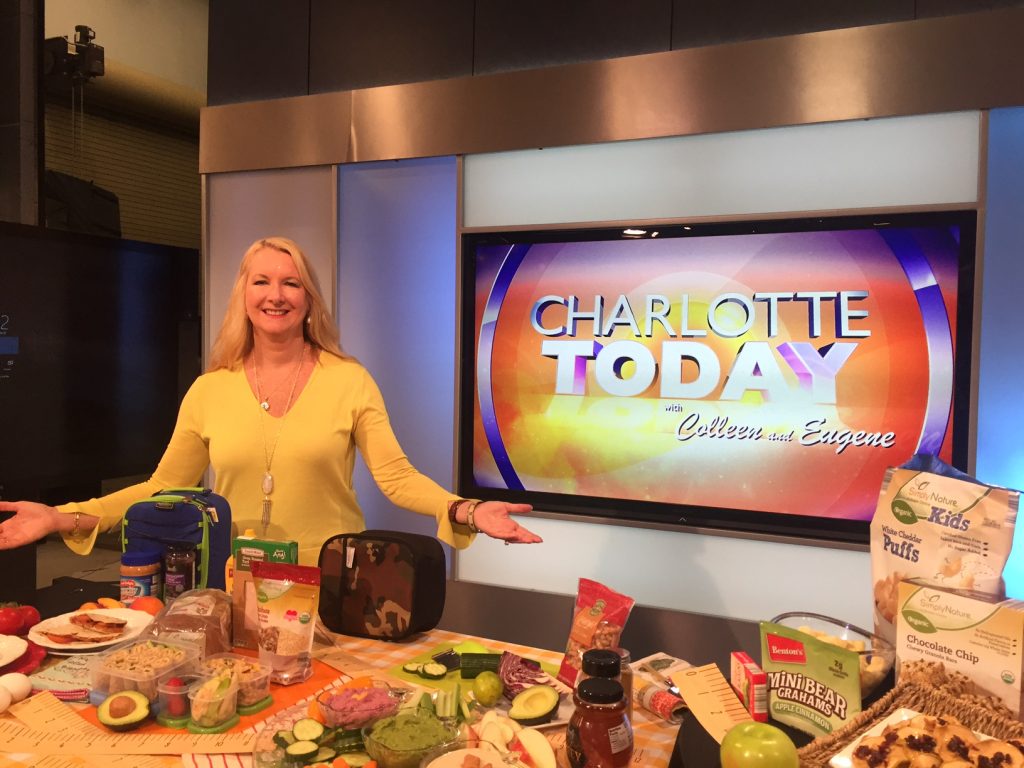 That means shopping for easy breakfast ideas, new ways to pack school lunches and making a plan for after school snacks. As a registered dietitian nutritionist and mom of two, I'm always impressed when I see foods in the market that are totally 'ready for school'! That's why I like shopping at ALDI.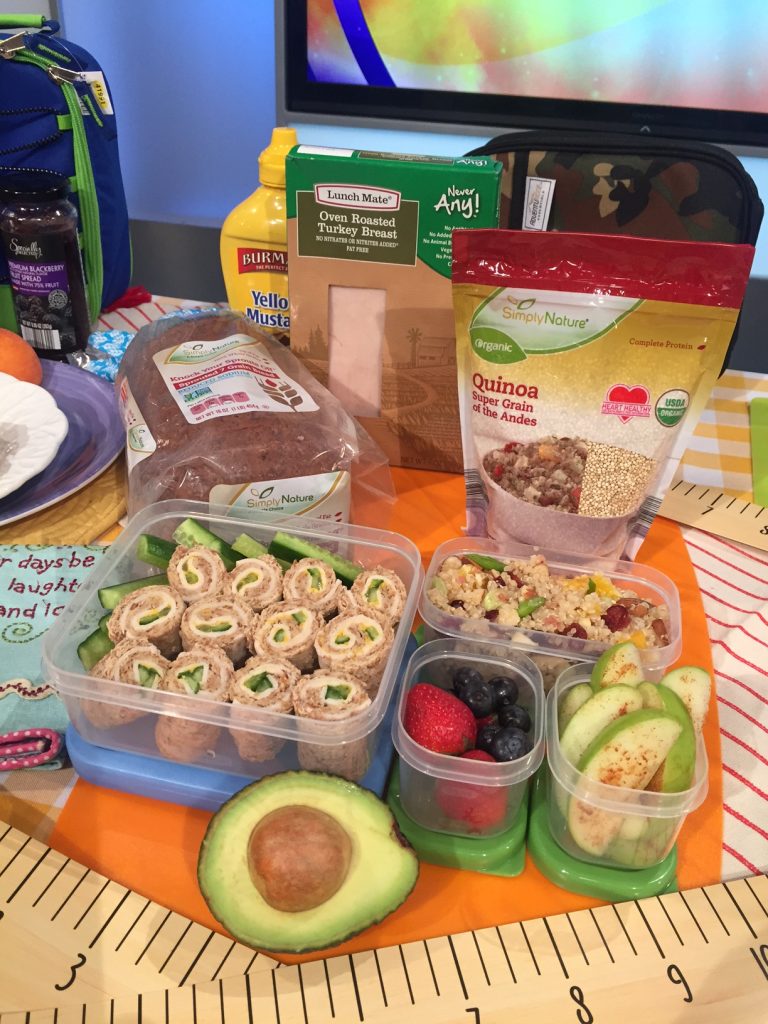 At ALDI, there are aisles of smiles for back to school ideas, including really cute insulated, leak proof lunch boxes like the camoflauge and bright blue lunch carriers in the photo. I am thrilled to be working with ALDI to help get the word out on their incredible selection of healthy foods. Did you know that fresh produce at ALDI is often at 50% savings compared to other markets?
(Keep reading to find snacks that are Parent Tested and Parent Approved to win the 2017 Seal of Approval.)
Also on ALDI.us   you'll find lots of recipes including the ones I've prepared for this blog post and the TV segment.
So let's get the school day started!
Mix and Match Breakfast Quesadillas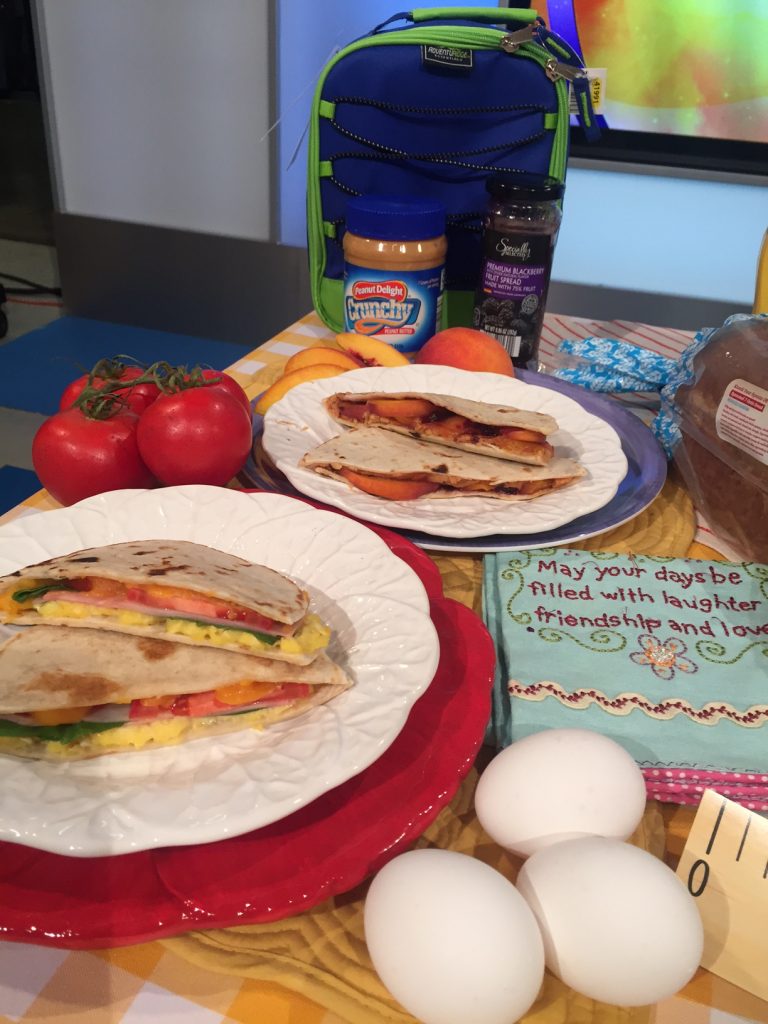 Sure a bowl of cereal and milk with some berries or banana added for more good nutrition is the go-to quick and easy breakfast solution. But, hand held quesadillas are a great idea to shake things up in the morning routine. And so easy with a microwave. Here are two examples: one savory and one sweet. Both are good sources of protein to keep energy up so kids can focus throughout the school morning.
Quesadilla with Scrambled egg, deli ham, cheese with spinach and sliced tomato for good nutrition addition. Salsa would be a nice touch too.. One egg provides 6 grams of protein.
OR
Quesadilla with Crunchy Peanut Butter, Fruit Spread and sliced fresh peaches. 2 Tablespoon of peanut butter provides 6 grams of protein.
Click here for Mix and Match Breakfast Quesadilla Ideas.
Lunch Bunch Bento Box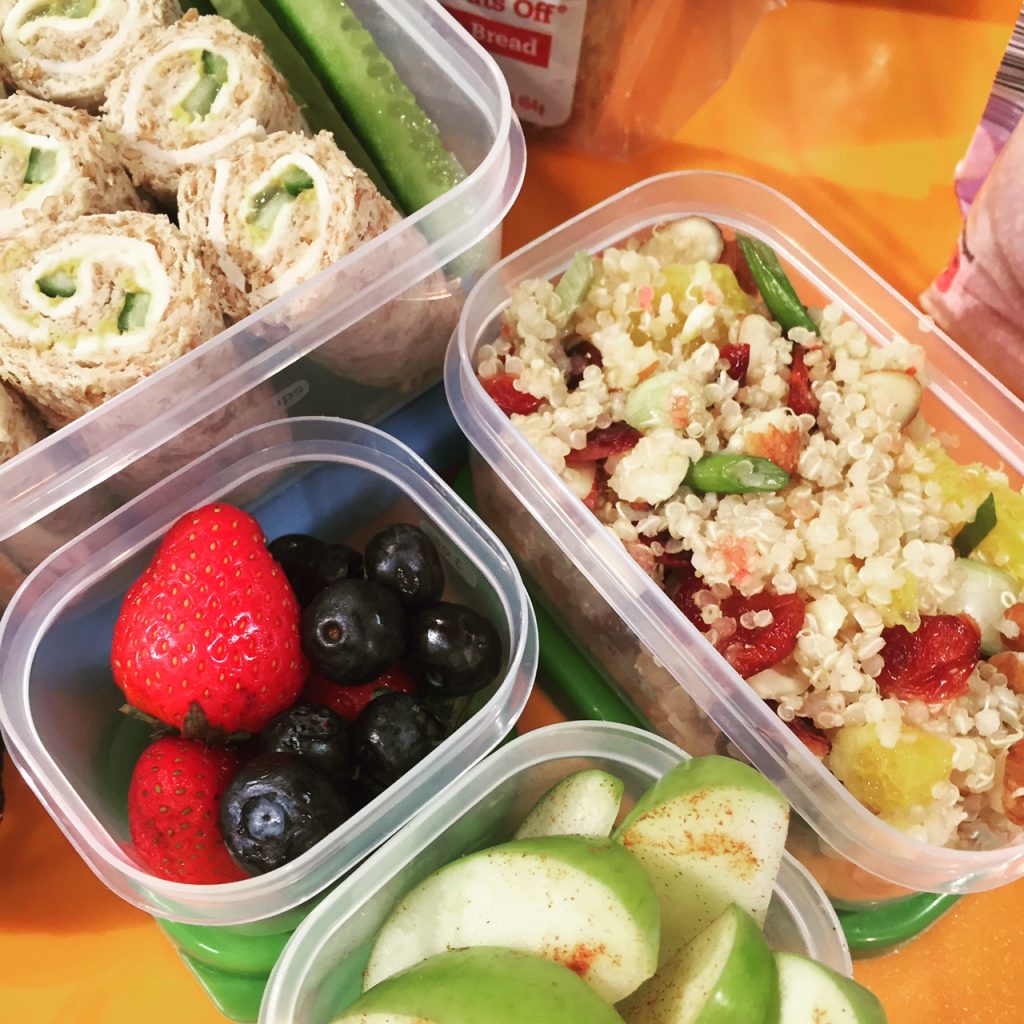 Perfect portions of delicious and nutritious lunch time foods are packed in individual containers that fit together. This is inspired by the Japanese bento box.  This super lunch stars roll up sandwiches with Knock Your Sprouts Off 7 grain bread, deli turkey, avocado and cucumber rolled and presented "sushi" style. On the side is a quinoa salad with fresh oranges, dried cranberries and almonds. You'll want to make extra for your lunch!  Here's the recipe from ALDI.us, a terrific resource for recipe ideas for all meal occasions. Bento Box Lunch.
Super Easy Quinoa Salad 
In a medium bowl, combine all ingredients, season to taste with salt and pepper.
1 cup SimplyNature Organic Quinoa, cooked
1/4 cup Southern Grove Sliced Almonds
2 mandarin oranges, peeled and separated
1/4 cup Southern Grove Dried Cranberries
2 bunches green onions, sliced
1 teaspoon Carlini Pure Olive Oil
Stonemill Iodized Salt, to taste
Stonemill Ground Black Pepper, to taste
After School Snack Ideas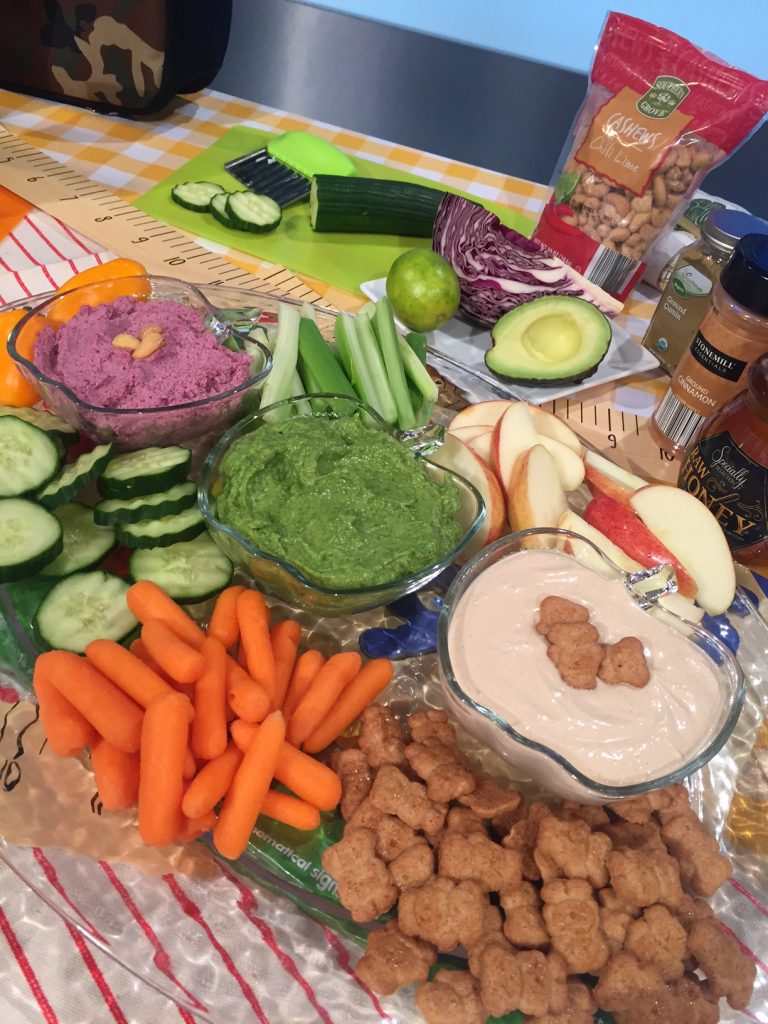 Three Dips to Celebrate Taste & Health
After school snacks are so important. Kids come running in the door after school, or after music or sports practice and they're famished but it's not dinner time yet. Nothing more fun than dipping bite sized fruits and veggies into delicious dips. And these dips contain "surprise" nutritious ingredients. Click here for the Snack Dip Trio recipes.
Spicy Cashew Lime Dip is a pretty purple color because it's made with red cabbage!
Avocado Dip is super green with the addition of arugula.
Serve with cucumber, carrots and celery.
Peanut Butter Dip is made with the good dairy nutrition of ALDI's Friendly Farms vanilla Greek yogurt and a touch of raw honey with the spice of cinnamon. Served with sliced apples or mini bear graham cookies.
Parent Tested, Parent Approved Snacks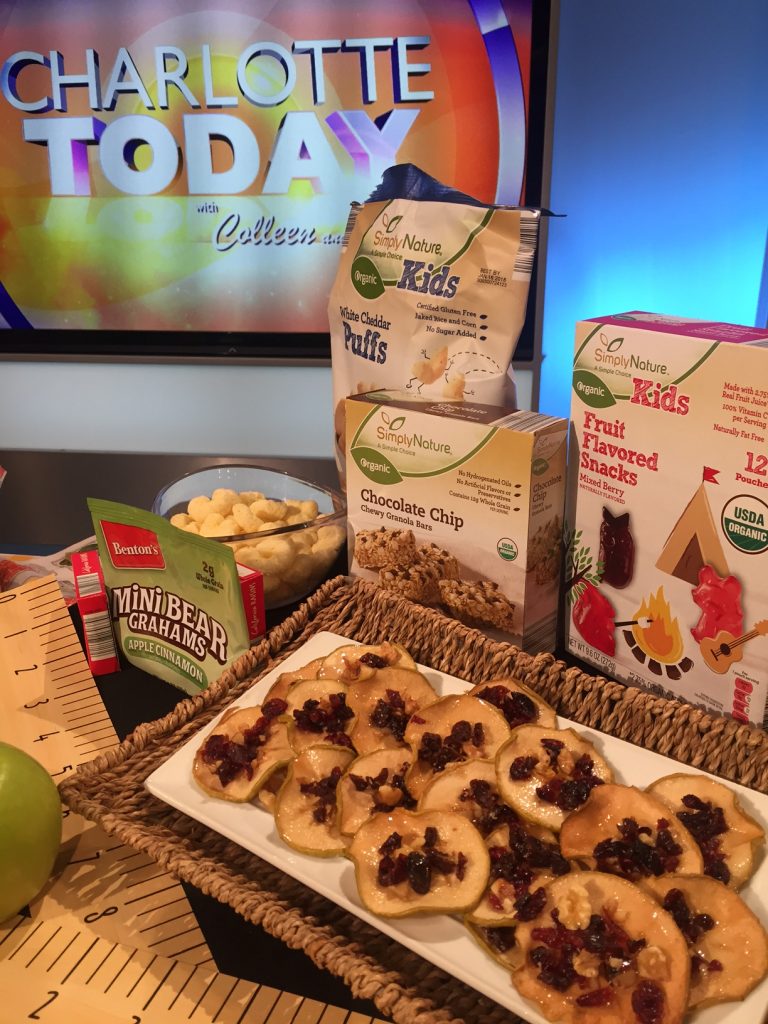 Ha! I like to joke that it's getting harder and harder to find junk food these days! That's because there are so many healthy versions of snack foods in the market and ALDI's line of Simply Nature products – from cereal to salsa- are free from 125 artificial ingredients and many are made with only organically grown ingredients. Simply Nature Organic White Cheddar Puffs ( gluten free by the way), Simply Nature Organic Fruit Snacks (good source of vitamin C) and Simply Nature Organic Chewy Granola Bars have been awarded the Parent Tested, Parent Approved 2017 Seal of Approval.
Apple Chips
Step aside kale chips, here comes apple chips with walnuts, raisins and dried cranberries on top. A crunchy good snack made with Granny Smith Apples. Did you know that walnuts are a good source of healthy Omega 3 fatty acids? Click here for Apple Chips recipe.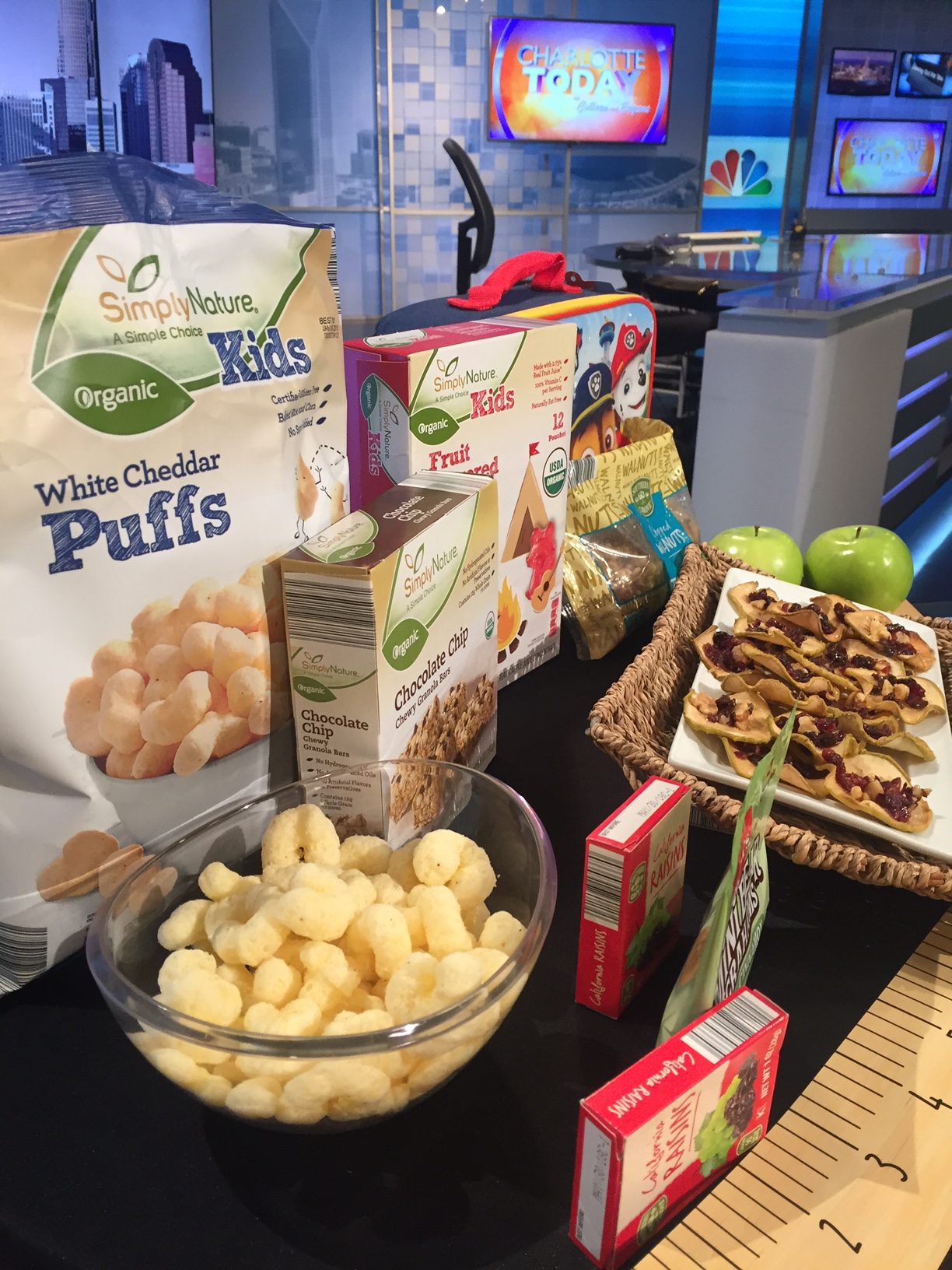 So, if you're looking for smart and easy ideas for Back to School breakfasts, lunches and snacks check out ALDI for terrific and tasty recipe ideas and shop at ALDI to find everything you need to get a "A" in convenient, affordable and inspiring grocery shopping. Oh, and if you make a recipe please share your photo on social media with the hashtag #ALDIlove.  I would love to see what you're making.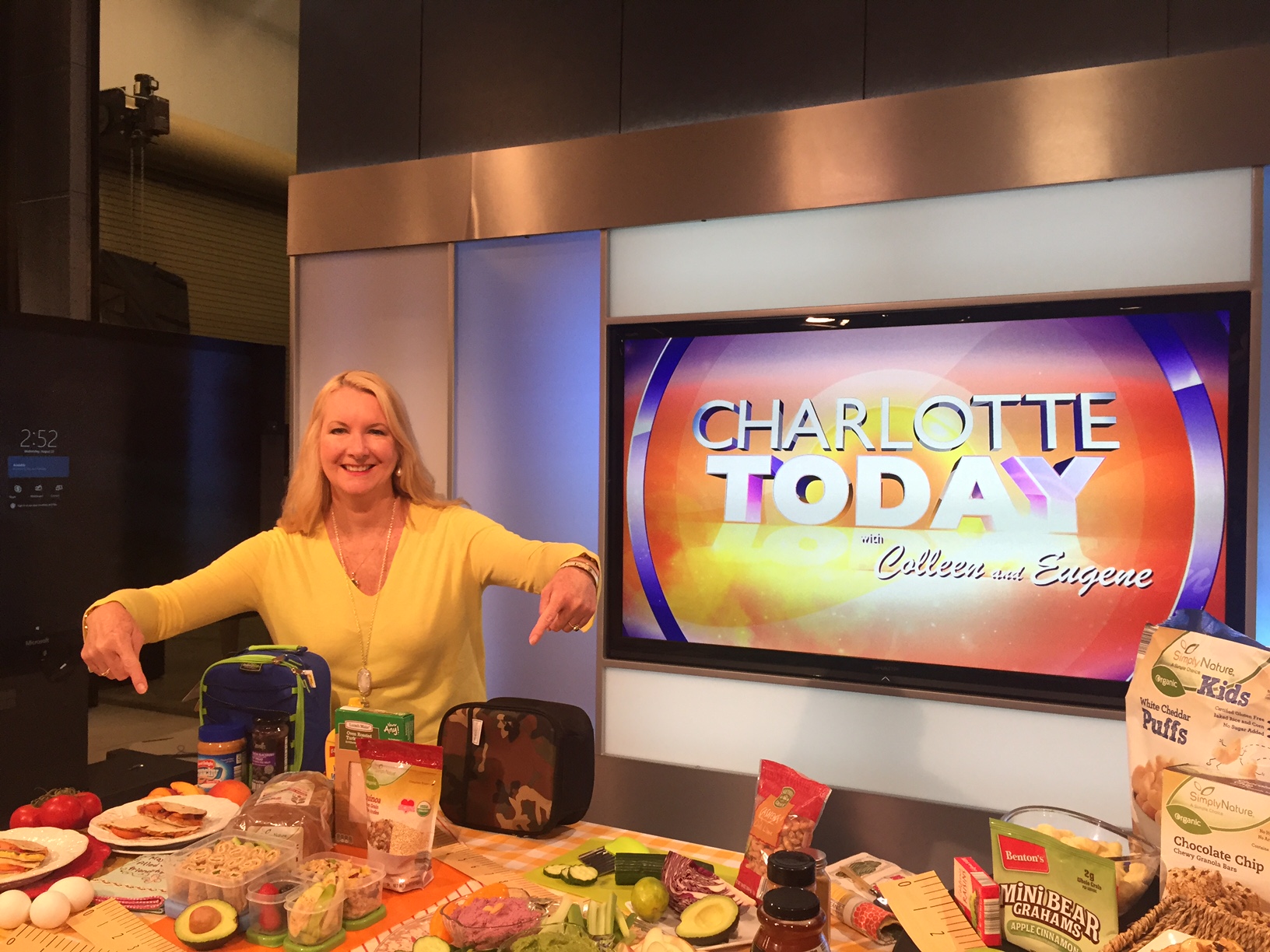 Here's to your Happy Healthy Kitchen. -Carolyn
Thank you to Charlotte Today hosts Eugene and Colleen who keep things moving and ask all of the right questions. Such as how do you pronounce, "Quinoa?!"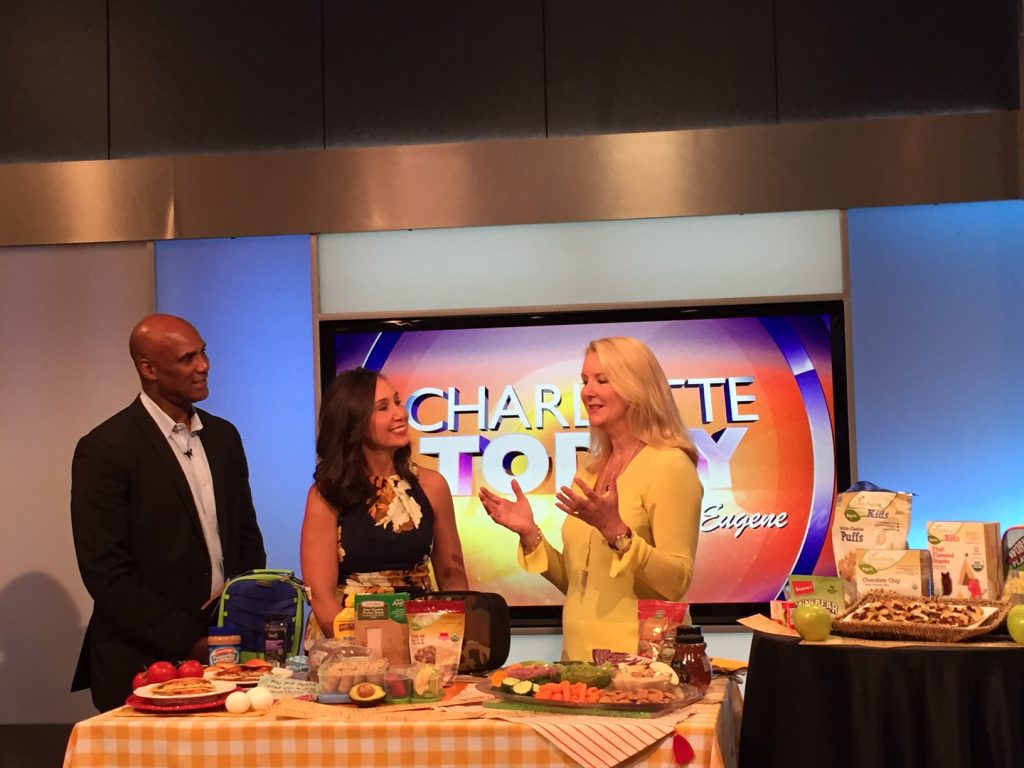 Hope to see you in Charlotte, North Carolina again soon. My mom's friend Joan Waryold who lives in Charlotte told mom that she heard my voice and then recorded the show! Thank you Joan!