Setting a New Table for a New Television Set 
The theme of the show was housewarming to kick off the first day of a brand new set for Atlanta & Company, Atlanta's best lifestyle and entertainment show. I was so excited to be invited to be one of the first guests to join Christine Pullara and the fabulous crew of NBC Atlanta & Company as they reveal their brand new stylish set. All that and a marching band!
Let's Get This Party Started!
Of course my theme is a housewarming party with bites and a beverage to toast the new set complete with big screen to list ingredients for recipes and a big couch for all of the celebs to talk about what's new in Atlanta and beyond.
More details coming soon…but in case you saw the show today and need the recipes I understand! Here ya go! They're all from ALDI.us and they're all delicious. I chose them because their light, bright and modern just like the show's new set.
Talk about light and bright! From fresh produce to fresh meats, ALDI offers savings up to 50 percent compared to other stores. No ALDI near you? Well here's the good news from grocery-ville. ALDI is expanding to 2,500 stores nationwide by the end of 2022. The will make ALDI the third largest grocery store by count in the U.S.
Now let's get into the Happy Healthy Kitchen!
 Ground turkey is a great source of protein, of course. But did you know that turkey is a champ in the B vitamins category? Also a good source of iron. These turkey lettuce wraps are so tasty with a bit of spice kick and then a cool yogurt sauce. 
Ingredients:
18 ounces Lean Fresh Ground Turkey
1 tablespoon Ground Cumin
1 tablespoon Paprika
1 tablespoon Chili Powder
2 cloves garlic, minced
1 teaspoon ground Sea Salt
1 cup Plain Nonfat Greek Yogurt
½ cup Light Sour Cream
¼ cup chopped cilantro
¼ cup lime juice
10 romaine lettuce leaves, washed and dried
2 jalapeños, sliced
2 Roma tomatoes, seeded and diced
½ red onion, thinly sliced
1 avocado, diced
2 limes, cut into wedges
Directions:
In a large skillet over medium-high heat, brown meat. Add cumin, paprika, chili powder, garlic and salt, stirring until completely cooked. Drain any excess fat. Reserve.
In a small bowl, combine yogurt, sour cream, cilantro and lime juice. Stir to combine and reserve.
Divide meat evenly over 10 pieces of lettuce. Top with jalapeños, tomatoes, onion, avocado and desired amount of sauce. Squeeze lime wedges over lettuce wrap if you need an extra zip.
Try this layered dip instead of the usual Mexican version for your next party. Hummus, which everyone loves these days, makes the first layer super easy and super tasty. 
Ingredients:
2 8-ounce Original or Roasted Garlic Hummus
½ cup diced tomato
½ cup diced cucumber
3 tablespoons minced red onion
½ cup Large Pitted Ripe Black Olives, coarsely chopped
Salt, to taste
Ground Black Pepper, to taste
¼ cup Feta Cheese Crumbles
2-3 tablespoons Extra Virgin Olive Oil
9 ounces Sea Salt or Parmesan, Garlic & Herb Pita Chips
Directions:
Spread hummus evenly, covering the bottom of a pie plate or similar serving dish.
In a medium bowl, combine tomato, cucumber, onion and olives. Season to taste with salt and pepper. Top hummus with vegetable mixture. Sprinkle with feta cheese.
Drizzle generously with olive oil. Arrange pita chips around edges of plate or serve on the side.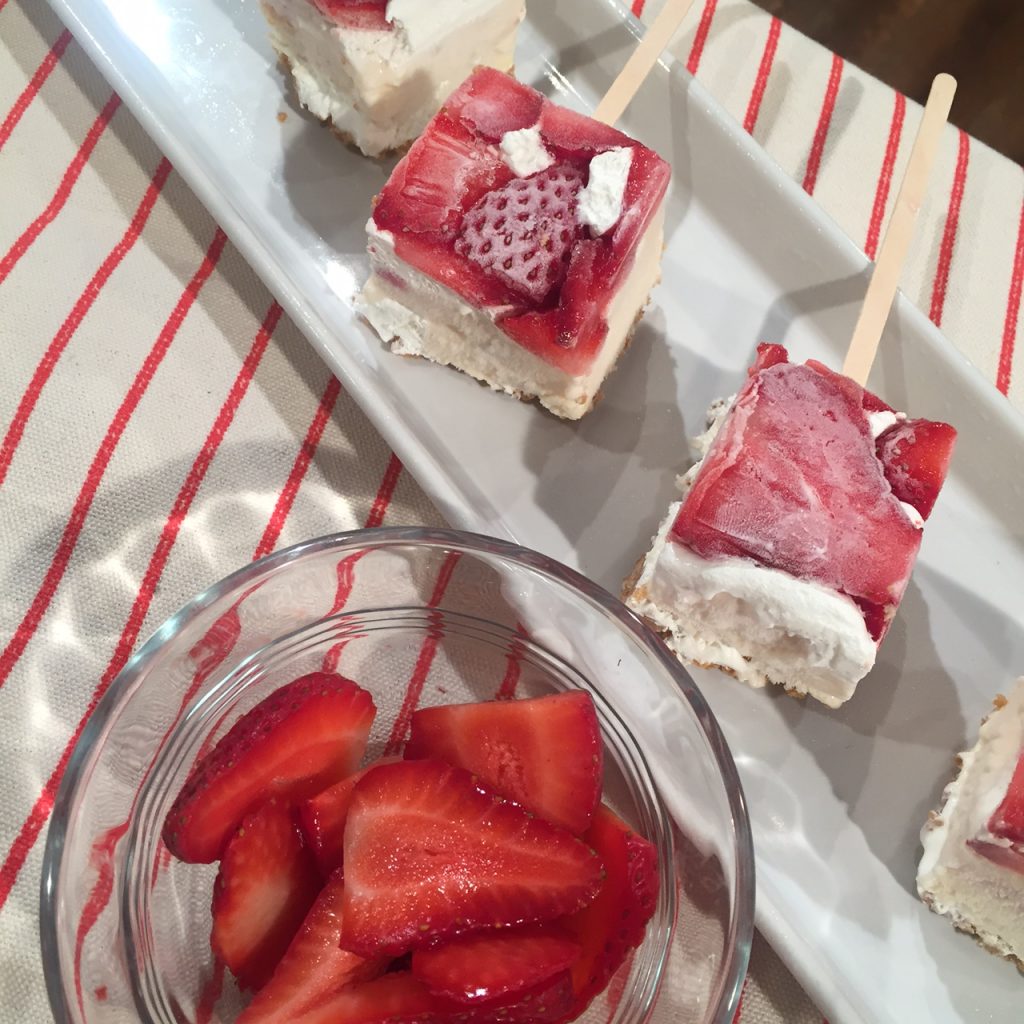 Strawberry Cheesecake Lollipops
 If you love cheesecake and frozen dessert pops, these are your go-to treats for summer. The light whipped dessert topping saves calories and the fresh strawberries add good nutrition. 
Ingredients:
11.1 ounces No-Bake Cheesecake
1 ½ cups 2% Milk
2 tablespoons Granulated Sugar
5 tablespoons Unsalted Butter
3 cups + 2 ½ cups Strawberry Ice Cream, softened, divided
1 ½ cups Whipped Topping, thawed
1 ½ cups sliced strawberries
Strawberry-Blueberry Sauce (optional):
1 cup sliced strawberries
1 cup blueberries
¼ cup Granulated Sugar
Directions:
To prepare ice cream mold: Coat a 9×9-inch baking pan with cooking spray. Line the pan with plastic wrap; press the plastic into the corners of the pan allowing a 2-inch overhang, to remove the cheesecake from the pan after freezing.
Prepare the cheesecake filling according to package instructions. Whisk in 3 cups of softened strawberry ice cream.
Prepare the crust according to packaging instructions.
To assemble: Evenly spread 1 ½ cups strawberries on the bottom of the pan. Follow with half the whipped topping. Gently spread half the cheesecake filling on top.
Top with remaining whipped topping. Scoop dollops of the remaining 2 ½ cups of ice cream on top of whipped topping. Follow with remaining cheesecake filling.
Sprinkle with crust and press into the cheesecake filling.
Cover with plastic wrap and freeze overnight.
Remove ice cream from mold: Pull plastic wrap up to remove ice cream from the pan. (For easy release, dip pan in warm water for 10 to 20 seconds first). Cut into 25 squares (5″ x 5″). Stick one skewer into each square to make 25 lollipops.
To make Strawberry-Blueberry sauce: In a blender, puree 1 cup sliced strawberries, 1 cup blueberries and ¼ cup sugar.
Pour into a small saucepan, bring to a boil and simmer until sugar dissolves. Remove from heat and chill 30 minutes.
Drizzle on top of each strawberry lollipop.
TIP: You will need 25 lollipop skewers for this recipe.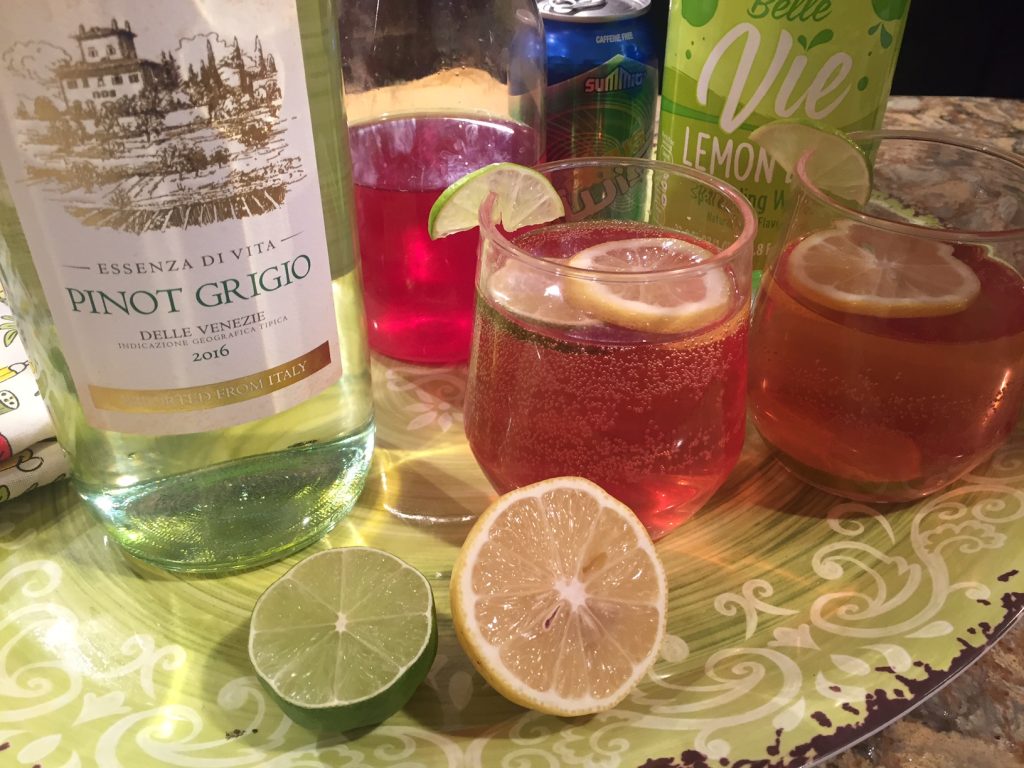 This summer it's been rose all day! But now the SPRITZER is a refreshing new taste trend at happy hour.
For this Crisp Summer Spritzer I like to substitute the lemon lime soda with a lemon lime seltzer to cut sugar and calories. A dash of the citrus soda can be a nice addition for sure. Cheers!
Perfect for sipping and sharing with friends. Did you know that ALDI website has great information on wines and seasonal wine specials in their wine cellar? The stores offer award-winning wines and world-class beers. The wine in this spritzer is Essenza di Vita Pinot Grigio was awarded a Silver Medal and Best Buy by the Beverage Testing Institute.
750 milliliters Pinot Grigio, chilled
2 cups Lemon Lime Soda, chilled
OR
Lemon Lime flavored seltzer water
1 cup 100% Cranberry Juice, chilled
1 lime, thinly sliced
1 lemon, thinly sliced
Directions:
Combine the chilled drink ingredients. Mix well.
Divide lemon and lime slices among 8 wine glasses. Pour the mixture over the top.
Click HERE to see the recipes come alive on Atlanta & Company. Thank you ALDI for the fabulous recipes. They are delicious, nutritious and fun to make. Hey, if we can make them on a TV show, you can make them at home even more easily.
See you next time in The Happy Healthy Kitchen.
Cheers,
Carolyn